Norwegian Ridge Birding and Nature Trails
The Best of Nature Photography Contest was held September 11-October 4 with winners announced at Uffda Fest. Congratulations to Cheryl Patterson (Spring Grove, MN), winner in multiple categories including Best of Show, 1st Place - Norwegian Ridge Birding & Nature Trail, and Honorable Mention - Norwegian Ridge Birding & Nature Trail. The contest was sponsored by Bluff Country Artists Gallery and the Norwegian Ridge Birding and Nature Trails.
Information, water bottles, hand-carved walking sticks, and t-shirts are available for sale at Giants of the Earth Heritage Center, 165 West Main Street in Spring Grove and t-shirts are also available at Red's IGA and Yah Sure You Betcha Shoppe in Spring Grove. Current information can be found on our facebook page https://www.facebook.com/sgbirdwalk. You can also email any questions to info@sgbirdwalk.org.
About the Trail
All are invited to this attractive rural environment away from the hustle and bustle of urban life!!! There is a 1 mile and 2 mile trail that is always open. This exciting opportunity will be of interest to birders, naturalists and eco-tourists. The trail is designed to showcase birds and spectacular scenery for local residents and visitors. The main trailhead is just on the south side of Red's Hometown IGA that is located along State Highway 44 on the east edge of Spring Grove. Checklists and maps are can be picked up at the trailhead sign, Giants of the Earth Heritage Center on Main Street, or Red's IGA. Funding for the trail is made possible through a grant given by the Southern Minnesota Initiative Foundation of Owatonna, and from gifts by private donors.
There are 56 signs that identify birds one might see while on the trail. Each sign shows the male and female, tells approximate size, and gives the scientific name, the common name, and the Norwegian translation of the name. In addition the signs list nesting habits, eating preferences, and whether or not the bird migrates. Each sign shows a QR Code for smart phone users to access the bird's song as well as additional information. The task force has decided to create four Northern Bobwhite Quail Habitat Restoration spaces close to the trail.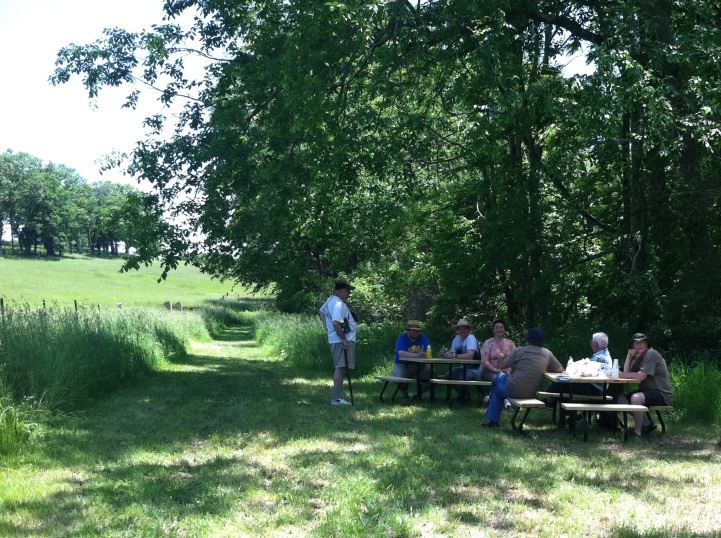 Located in the bluff country of this driftless region, the trail is mowed and crosses meadows and deciduous woods going past ponds and small streams where water trickles over rocks on its way to larger streams as it traverses private lands. Some birds love that type of habitat while others prefer woods or open meadows. There are three geo-cached sites along the trail as well. We encourage you to linger along the trail with binoculars in hand. There are benches along the way where one can sit and enjoy the sounds of birds above and rushing waters behind your bench. Early in the Spring there are a variety of wildflowers blooming. During Spring and Fall many species migrate through this area, including scarlet tanagers, osprey, and Eurasian ring-necked doves, plus an exciting myriad of warblers. During the quiet time of evening there is a lot of owl activity year around.
Walkers may wish to pick up a trail map with lists of birds to check off as they see them. Water bottles, hand-carved walking sticks and T-shirts are available for sale at Giants of the Earth Heritage Center, 165 West Main Street in Spring Grove. At approximately the half-way point of the two mile trail, a picnic table is provided for anyone who wishes to bring a lunch. Birds, white tailed deer, wild flowers, mink, fox, and grouse – we've got it all and it is waiting for you to come to Norwegian Ridge and experience it whether you're a novice bird enthusiast or a seasoned listener. The trail is open year-round, a sweet place to snowshoe, and there is no admission charge. It is a great place to exercise dogs, and if there aren't other dogs present when one is on the trail, it's okay to let your pet go off-leash for some extra exercise. Photography opportunities abound. We invite folks to bring their cameras and take shots of birds or to preserve a memory and share it with friends on Facebook, and on the trail's Facebook page.